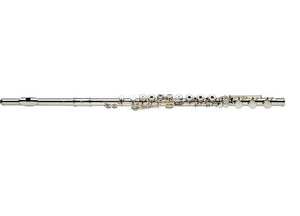 Sonaré C flute retains some of the design features from our Signature flute that are critical for acoustical quality. Sonaré C flutes feature bodies made using patented Zinki technology (U.S. patent #7,420,109) and handmade Powell Signature® headjoints. Both the body and headjoint are made at our Massachusetts workshop. 
Every Sonaré model includes an elegant French style case, nylon case cover, swab stick, gauze swab and polishing cloth.
Headjoint and body made in USA, key assembly is done in China.
Materials:
Body material: Nickel silver
Keys: Nickel silver
Headjoint tubing: Sterling
Headjoint lip/wall: Sterling
Headjoint style: Signature
Body plating: Silver
Key plating: Silver
Design Features:
Arms: Pointed
Springs: Elgiloy
Cups: French
B foot option: Yes
Scale: Powell