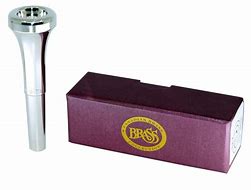 Canadian Brass Collection Mouthpieces. Designed as a choir.
The Canadian Brass Mouthpiece Collection was designed and inspired by the personal mouthpieces used by the Canadian Brass Musicians.
These pieces are held to a high standard of comfort, musical facility, and above all else to provide a rich, pure, and cohesive sound that blends well with each other. For a musician seeking to enhance their general set-up, the Canadian Brass Collection provides an incredible opportunity to capture the warm lush sound of the Canadian Brass within a reasonable price range.
TROMBONE:
Given the exceptional demand of the trombone book for Canadian Brass, who better to provide insight on a mouthpiece that will provide a musician an incredibly versatile feel, and flexibility than Achilles Liarmakopoulos. With the concept of pairing incredible comfort on the embouchure with careful thought to the cup shape and backbore, the TB5S and TB5L facilitate both a pure and an effortless upper register.
TB5S - Approx. Cup Diameter: {25.0mm} ; Deep, Medium Wide Rim, Rim: {7.29mm} ; Throat: {6.82mm} 
TB5L -  Approx. Cup Diameter: {25.5mm} ; Deep Cup ,Medium Wide Rim  ; Rim: {7.29mm} ; Throat: {6.731mm}